Justin Timberlake Pushed For Janet Jackson "Wardrobe Malfunction" To OutDo Britney Spear's VMA Kiss


IT STARTED WITH A KISS
Janet Jackson's former stylist, Wayne Scot Lukas, told Page Six that Justin Timberlake pushed for the infamous Super Bowl "wardrobe malfunction" in an attempt to outdo the iconic kiss between Britney Spears, Madonna, and Xtina at the 2003 MTV Video Music Awards. I am sure everyone remembers the look on Justin's face when the kiss happened, LOL.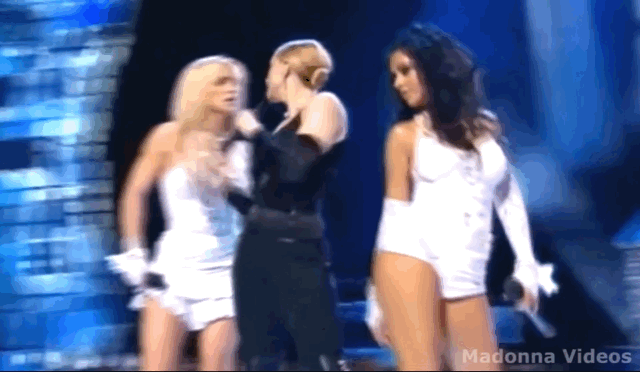 Lukas revealed Justin "insisted on doing something bigger than their performance. He wanted a reveal." The original concept was for Janet to be in a Rocha dress, and JT was to "accidentally" step on the back of the dress to reveal Janet's ass in a pearl G-string inspired by the one worn by Kim Cattrall's Sex and the City character "Samatha."
Somehow the wardrobe got changed, but the planned reveal remained the same.
"GONNA HAVE YOU NAKE BY THE END OF THIS SONG"
During Super Bowl XXXVIII's halftime show, after Janet Jackson performed a medley of her hit songs, Justin Timberlake comes out to perform his Michael Jackson rip-off, Rock Your Body.
While dancing around, they both head up some stairs. Once they get to the top of the platform, they face the crowd, and Justin sings, "Gonna have you naked by the end of this song." This is when Les Moonves probably turned the color of a purple grape.
JT reached over, snatch off Janet's right breast cup, and revealed her beautiful Black breast and nipple jewelry to over 11 million people. As Janet covered herself in faux shock, Justin just stood there probably thinking, "Top that, Britney!"
"I DON'T WANNA BE INVOLVED IN A STUNT, THAT'S NOT MY STYLE"
There was immediate backlash to what Justin Timberlake labeled a "wardrobe malfunction." Lukas said, "I wouldn't call it a wardrobe malfunction in a million years. It was the most functioning wardrobe in history. As a stylist, it did what it was intended to do."
Justin immediately distanced himself from Janet Jackson and told ET The Insider, "I don't wanna be involved in a stunt, that's not my style. You know, I don't have any reason to do this. I'm frustrated; I'm
frustrated at the whole situation. I'm frustrated that my character is being questioned. I don't feel like I need publicity like this. I wouldn't want to be involved in a stunt, especially something of this magnitude."
This interview already made Justin Timberlake look awful, but listening to it with the knowledge that the reveal was not only planned (duh) but that he pushed for it so that he could top Britney Spears...TRASH! Oh, and that guy behind JT on the left is Johnny Wright. The one who had the nerve to tell Janet to forgive Justin.
Moonves banned Jackson and Timberlake from the 2004 Grammys broadcast airing on CBS the week after the Super Bowl. But Timberlake was allowed to perform after he tearfully apologized for the incident-Huffington Post
After Justin Timberlake cried a river in Les Moonves's office, he was allowed to have a successful career without any blame for the incident. While Janet Jackson was blackballed, had her album sabotaged, and her legacy watered down.
While I appreciate Wayne Scot Lukas exposing this information, it's annoying he waits until he has a tell-all book to promote to speak on it.
Say Sumthin, Like, Share...Thanks!